Pure Storage

&

FAST LTA
Best-of-Class Data Storage for Highest Demands
Pure Storage

&

FAST LTA
Best-of-Class Data Storage for Highest Demands
FLASHBLADE//S
Unified Fast File and Object Storage
Pure FlashBlade® is the industry's most advanced all-flash storage solution for consolidating fast file and object data. Accelerate your primary target storage with a unified unstructured storage platform that delivers a Modern Data ExperienceTM.
All-Flash scale-out architecture as primary target
Simplified workload consolidation
Maximum throughput, highest availability
Silent Bricks
Flexible & highly secure secondary storage system
FAST LTA Silent Bricks is the most flexible and secure secondary storage. Combine large capacity Silent Brick DS and mobile Silent Bricks to suit your needs. Your data is protected with multi-redundancy, continuous snapshots, replication and true Air Gap. Meet all health compliance and DSGVO criteria with a flexible zero-admin storage platform that grows with your needs.
Scale-up architecture with stationary and mobile storage modules
Highly secure, GDPR compliant and certified
Maximum protection against failure, manipulation and unintentional deletion
Best-of-Class Secondary Storage for
Backup & Recovery
Optimizing RTO and RPO is the biggest challenge IT managers face when it comes to data protection. Rapid recovery of ongoing operations (RTO) and long-term access to working and integer backups (RPO) are essential for mitigating the consequences of a cyber-attack.
On the one hand, this requires high-performance flash storage that ensures immediate provision of the data for CDP and InstantRecovery®.
On the other hand, backups must be secured to the maximum extent possible, since over 90% of attacks now initially target the backed-up data. This requires multi-redundant storage with automatic snapshots and immutability.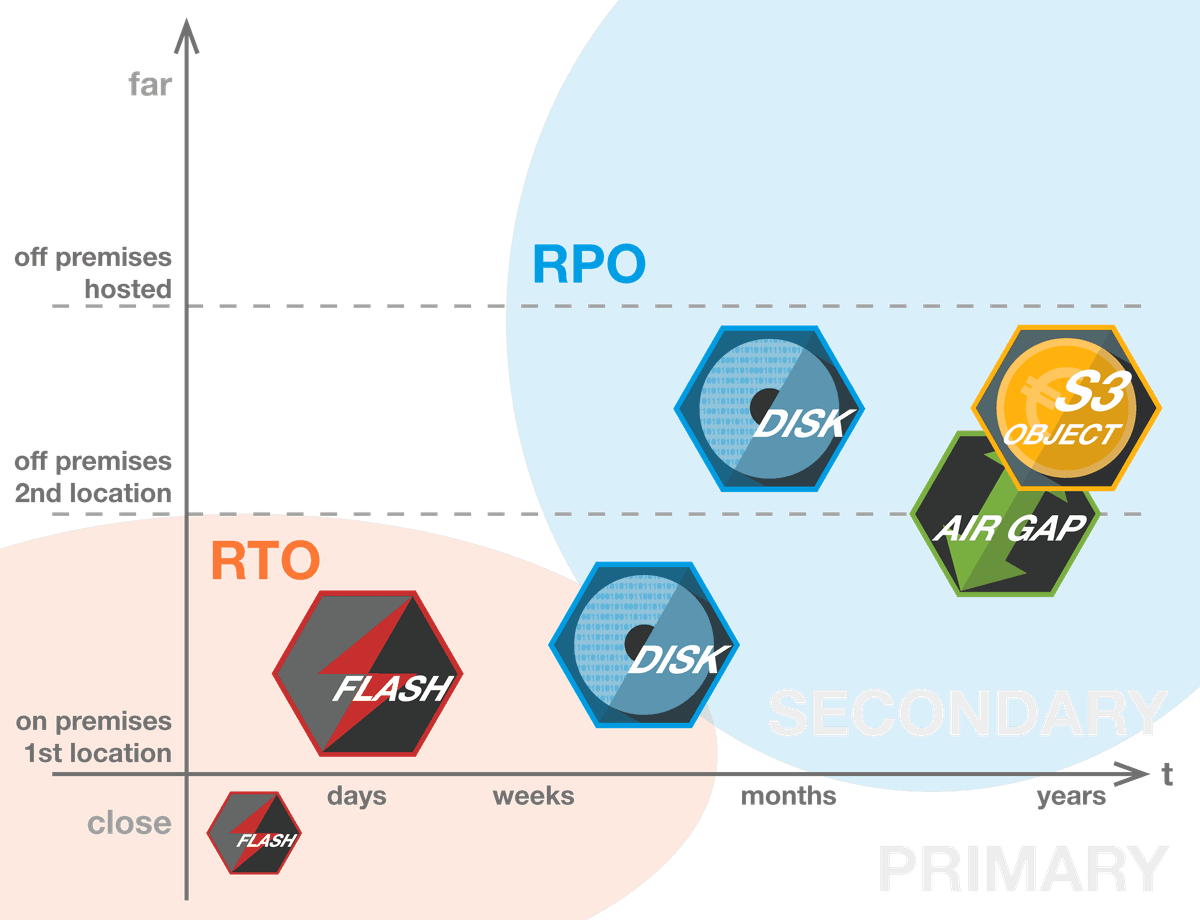 All in all, this results in a much more complex infrastructure compared to the "backup-to-disk-to-tape" that was common in the past. The individual components of this infrastructure must be analyzed, implemented and optimized precisely according to the respective requirements.
Highest performance, maximum security:
Pure FlashBlade

and

FAST LTA Silent Bricks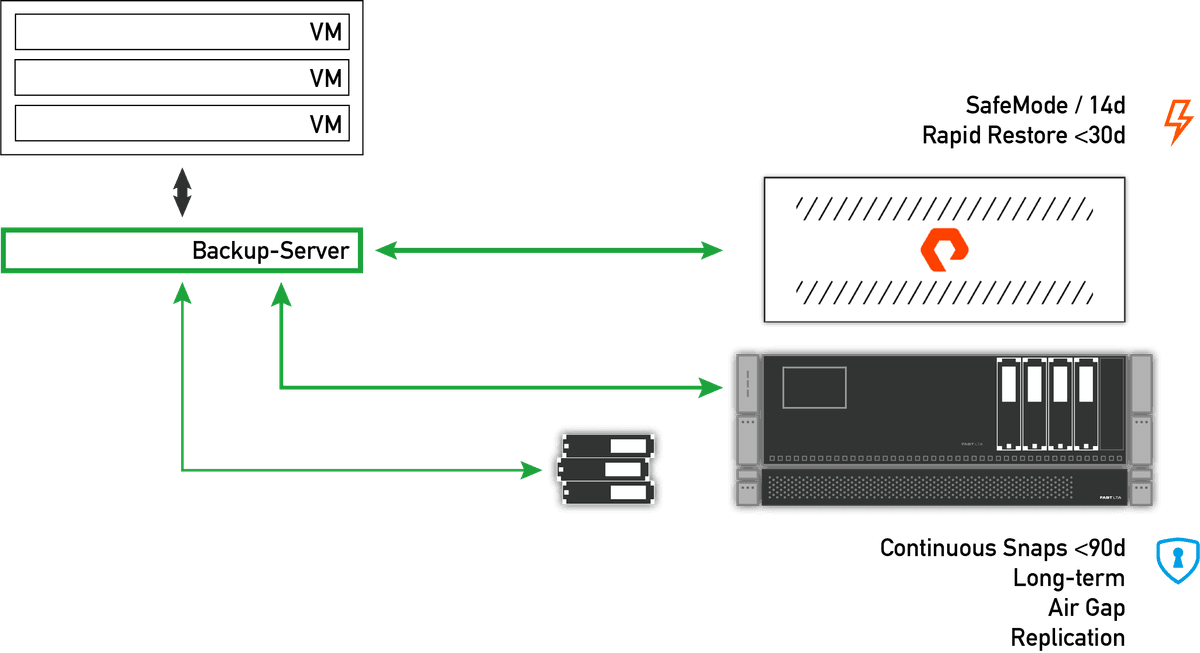 Best-of-Class Secondary storage for
PACS Archiving
New imaging equipment is generating ever-increasing amounts of data. The higher the workload in hospitals and practices, the more time-critical the storing and retrieving of image and video data. The increasing use of AI for machine-aided diagnostics is dramatically escalating this problem. Conventional archives are no longer suitable as online storage for such volumes of data.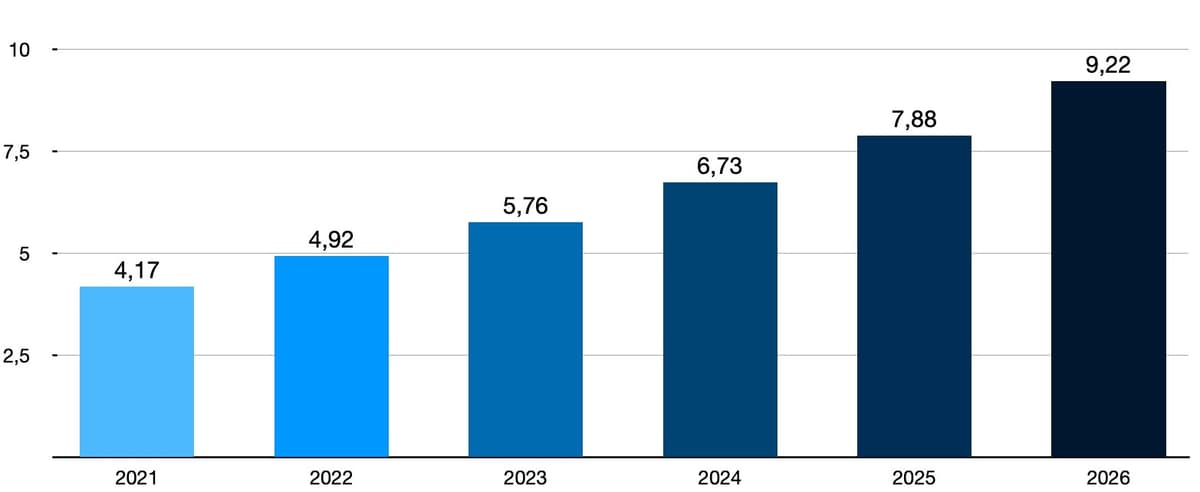 The global storage market in the healthcare sector is growing at an annual rate of approx. 17%.
(figures in USD billion; 2022: estimated, 2023-2026: projected)
Source: The Business Research Company
On the one hand, this requires high-performance flash storage that ensures fast storing and immediate provision of the data.
On the other hand, medical image and video data must be archived absolutely securely and in accordance with legal requirements. This requires multiple redundant storage with hardware WORM sealing and the corresponding certifications.
Silent Bricks offer the widest range of "immutability" protection mechanisms
Compared to earlier, simple "nearline" archives, which in many cases had to serve both for storing and retrieving image and video data and for long-term secure archiving, the latest generations of imaging devices and AI-supported diagnostics require the separation of fast and immediately available flash storage and audit-proof and WORM-sealed archiving.
Highest availability, maximum compliance:
Pure FlashBlade

and

FAST LTA Silent Bricks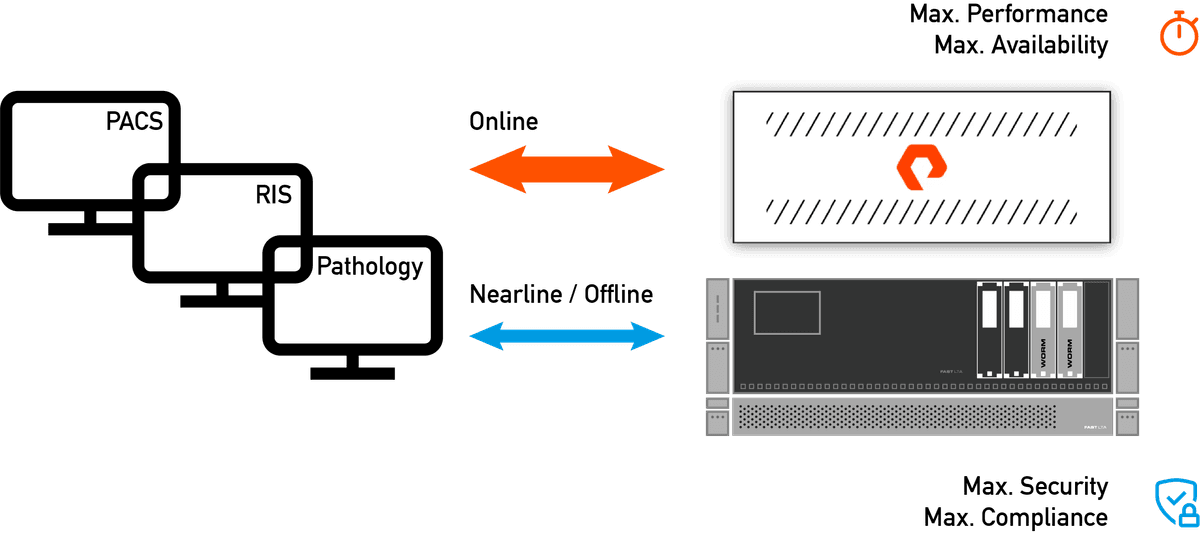 Pure Storage & FAST LTA
Common Values
The products of Pure Storage and FAST LTA complement each other ideally in the areas of data protection and medical archiving. In addition, both companies share many characteristics and values that make cooperation possible in the first place.
The storage specialists
As storage specialists, data storage is not just an additional business for us - it is our business. That's why both companies rely on their own hardware and software. Only this offers complete control and maximum efficiency in the result and allows storage complexity to be reduced. The fact that sustainability is not just empty words at both companies is also reflected in the product architectures, which both rely on the separation of compute and capacity and thus enable the individual parts to be exchanged and upgraded independently of each other. This also includes the fair service conditions with terms of 10 and more years.

Common Partners
An essential part of our offers are also our sales partners, who are regularly trained and advise you independently and competently.
Questions & Answers
On the contrary. Pure Storage, with its leading scale-out systems designed for performance and availability, is the optimal complement to our secure scale-up storage systems. The business values are very similar, and the solutions complement each other perfectly.
This is true, but the Silent Brick Flash is also used within the scale-up architecture. In addition, the performance of the Pure FlashBlade//S is many times higher than that of a Silent Brick Flash. If the highest performance is required for large amounts of data, the Silent Brick Flash is not sufficient for some users.
Of course, this strongly depends on the respective application. FlashBlade and FlashBlade//S are useful as primary targets in configurations of hundreds of TB or more.
No. The cooperation relates purely to offering optimum solutions in the combination of both products.
No. Sales continue to be separate and take place through the certified resellers. There are a number of FAST LTA Authorized Partners who are also certified Pure Storage Resellers. You can find a list in the Partner » Resellers section, there you can view the Pure partners by selecting the filter "Pure".