The Silent Brick.
Mobile data container for the Silent Brick System.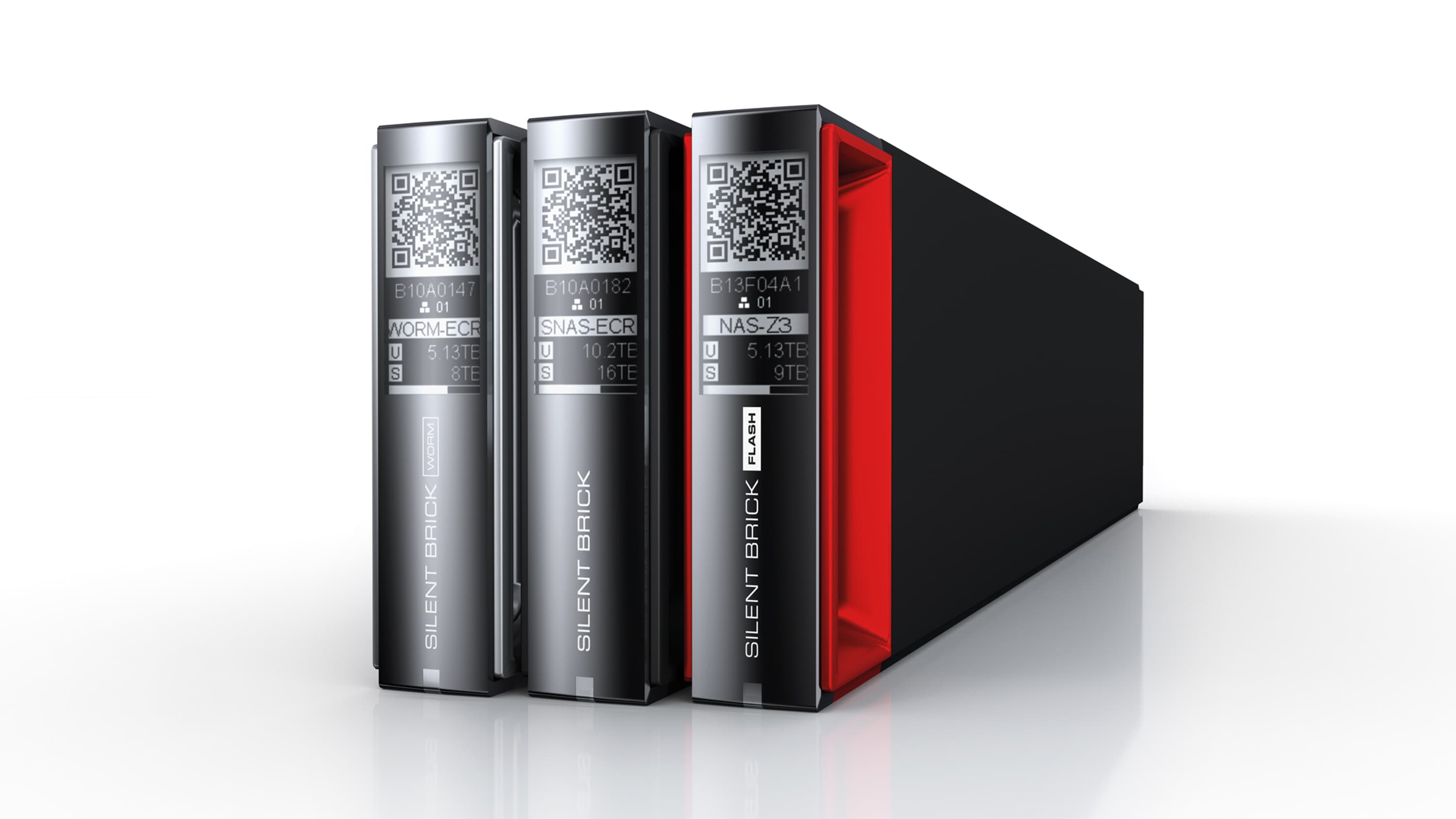 Silent Bricks are available in three variants: Silent Brick WORM (left), Silent Brick (middle), Silent Brick Flash (right)
For modern data protection.
Silent Bricks are the more effective answer to ransomware: high capacity, up to four times built-in security, fast random access.
And all of this in a robust, handy aluminum case for removal and safe storage (Air Gap).
Capacity.
Compact casing, a lot inside: Silent Bricks offer between 3 and 96 TB capacity (gross) per container. If that's not enough, several Silent Bricks can be combined to form larger volumes. At any time, even retroactively.

Security.
Each Silent Brick is equipped with 12 data carriers that originate from 3 different productions. This prevents data loss due to correlated failures. Depending on the configuration as SecureNAS, SecureNAS ERC or VTL, 2, 3 or 4 redundancies per Silent Brick ensure that the failure of a data carrier does not lead to data loss. The Silent Brick WORM is also WORM-sealed by hardware and protects your data 100% against manipulation or unintentional deletion.


Performance.
12 data carriers in the array offer high transfer rates of hundreds of MB/s - and of course, thanks to random access, you have instant access to any data set at any time. The Silent Brick Flash delivers the highest performance thanks to SSD equipment, while the Silent Brick with hard disks represents a good compromise between speed and cost.
Container.
Silent Bricks are tough. The data media are optimally protected in the robust aluminum case. The handle facilitates safe carrying, optional transport cases for one or four Silent Bricks protect your data during shipping. Silent Bricks operate without power. The e-paper display integrated in the handle shows all important information as an electronic label and can be individually configured via software.


Mobile.
Silent Bricks are the better alternative to tape when it comes to Air Gap. They are compact and portable, powerless and rugged. Unlike tape or other removable media, they offer up to four times built-in security and random access.
Mobile data container:
The Silent Brick.