With two slots for Silent Bricks:
The Drive.




With two slots for Silent Brick, Silent Brick Flash or Silent Brick WORM, the drive is suitable for smaller installations or applications with replication. The drive also looks good as a replacement for a tape backup with VTL-configured Silent Bricks.
As
backup storage.,archive storage.,file server.,remote office.
The slim Drive has many possible usages where size is not as important, e.g. for individual backup tasks, as an audit-proof archive, departmental file server, or as a data-collecting branch office with replication to headquarters.
Backup-Storage.
One drive, one task. Two Silent Brick Flash combined already offer up to 96 TB, two Silent Bricks up to 48 TB gross capacity. Often enough, to perform exactly the one task your backup environment needs, such as all-flash backup storage as a first instance, classic backup-to-disk in smaller environments, or offloading data via Air Gap with rotating VTL media.
Compliant archiving.
The amount of data that needs to be backed up in an audit-proof and WORM-sealed manner is often only a few terabytes. Equipped with a fast Silent Brick Flash as a stage and a Silent Brick WORM as a certified archive, this is possible in the drive on only one RU. And when the archive fills up, you swap out the Silent Brick WORM and replace it with a new one.
File Server.
With the Drive and Silent Bricks or Silent Brick Flash, storage for individual departments or applications can be set up quickly and cost-effectively. Data can also be backed up internally for up to 90 days using Continuous Snapshots without any additional software.

Field Office.
Replication in the Silent Brick System does not require mirroring to an exactly identical system at the second location, as is usually the case, but takes place on the basis of individual Silent Bricks or volumes. This allows a remote site to store data on a rotating basis, which is then replicated to a larger Silent Brick System at the headquarters.
Data transport.
Ever tried sending 16 TB of data - at least that much fits on a Silent Brick with 24 TB gross capacity - over the Internet? Sometimes it's just faster to collect the data on site and then physically transport it to the final location. However, storage systems are not made for transport - Silent Bricks are. Take them out and ship them, mount them - and they're immediately available.
Customized storage containers for your requirements.
All Silent Bricks are equipped with 12 data carriers from 3 production batches. The integrated data backup with up to 4 redundancies ensures that there is no risk of data loss if individual data carriers fail.

Silent Brick Flash
Modern backup & recovery requires fast flash storage as its first instance. Silent Brick Flash is available in gross capacities from 3 to 48 TB per unit.
Silent Brick
The hard drive-equipped Silent Brick offers 12 or 24 TB of gross capacity and enables true Air Gap as a mobile data storage device.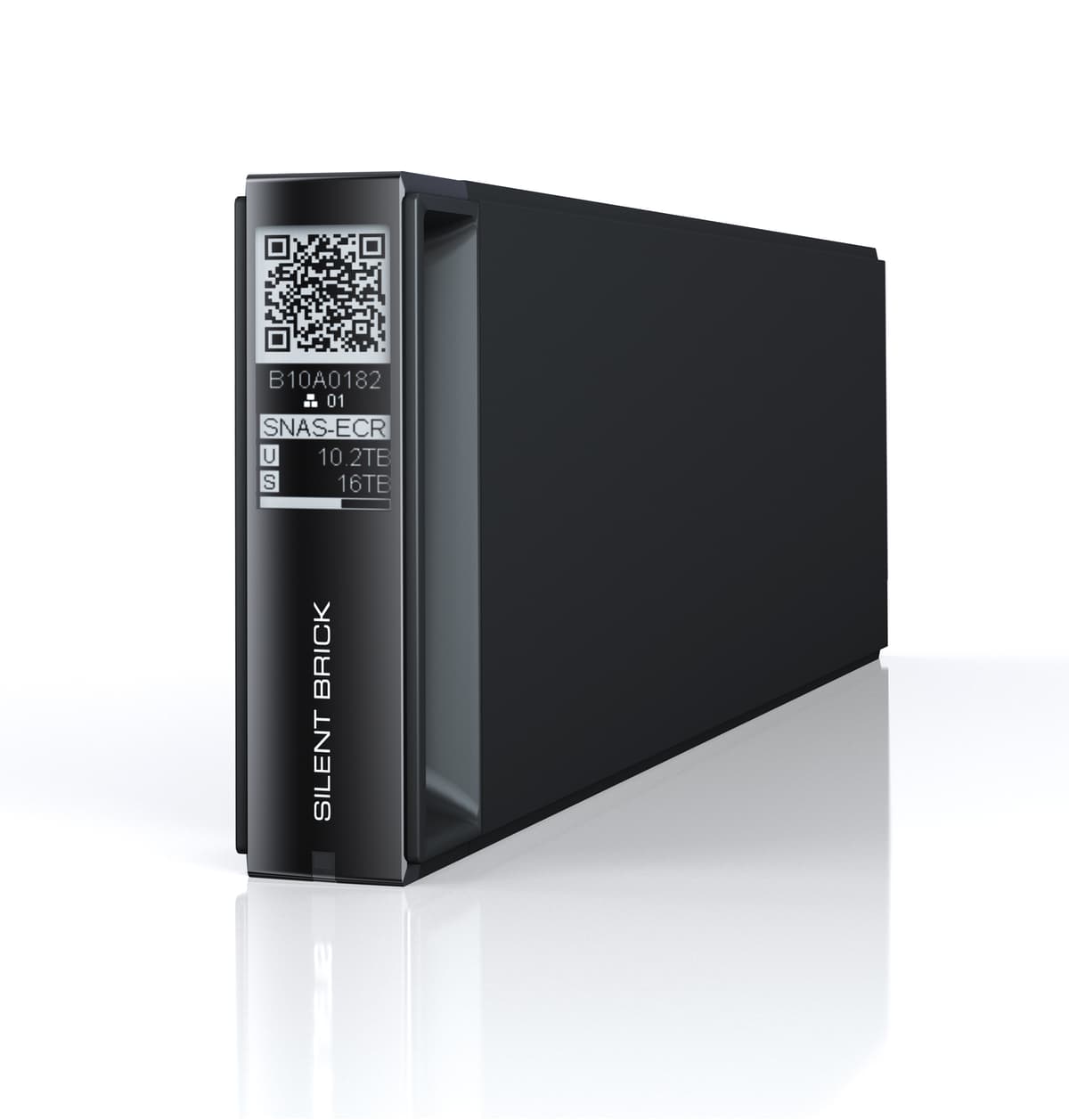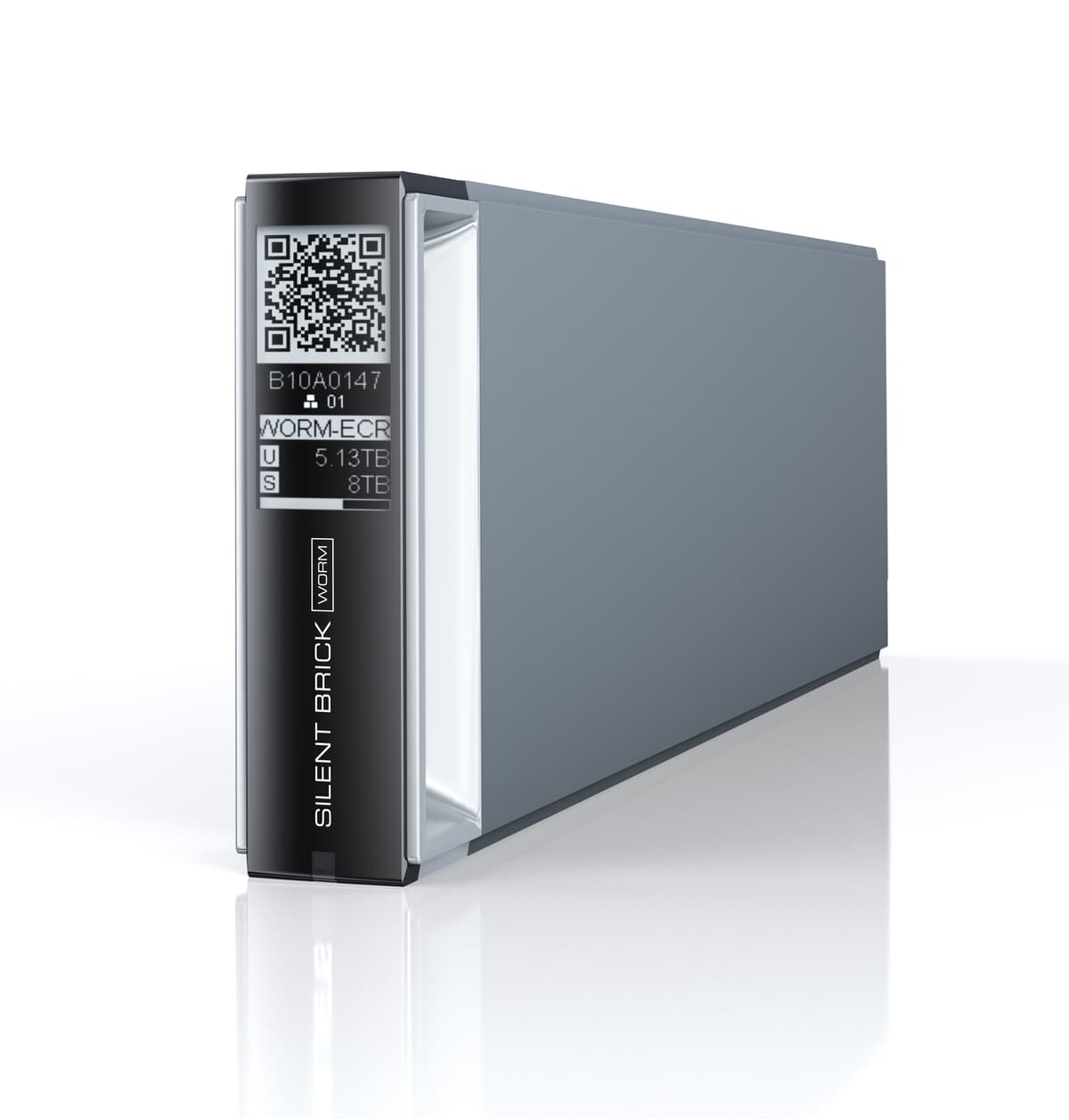 Silent Brick WORM
The Silent Bricks equipped with hard disks are also available with 100% reliable hardware WORM sealing for audit-proof and DSGVO-compliant archiving.

Single Drive.
For compliant archiving of less data, we also offer the drive with a slot for a Silent Brick WORM.